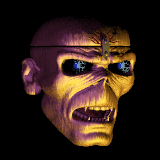 Welcome to the "EDDIE" Picture Webpage. The incredible animated artwork of Derek Riggs is truely relevant when you see all the different illustrations on Eddie. It almost seems that Eddie has become a hero to us headbangers, the true "Iron Maiden" fans. He is no doubt an icon as seen by everyone around over the world. Lastly, to all you
Head Bangers, Earthdogs, Metal Maniacs, Hell Rats and River Heads from All Around the World:

Thanks for Visiting & Help Spread the WORD about IRON MAIDEN!
AND UP THE IRONS!!!!


To Help Support This Website, You Can Purchase A CD Or 2...

| | | |
| --- | --- | --- |
| Killers | Maiden Japan | Piece Of Mind |
| Powerslave | Live After Death | Somewhere In Time |
| Seventh Son Of The Seventh Son | No Prayer For The Dying | Best Of The Beast |
| | World Slave Tour | |


Back To Iron Maiden Main Index Page



Thanks for visiting my personal version of an Iron Maiden Webpage. I have used my scanner to enlarge and give all a better view of Eddie. I can still add more pictures down the road. Please come back often and check out the MIDI tunes. I still enjoy listening to my Iron Maiden records after all these years and only have one more thing to say to you:


"Rock On Forever Iron Maiden And Up The IRONS!"